History of the Raspberry Pi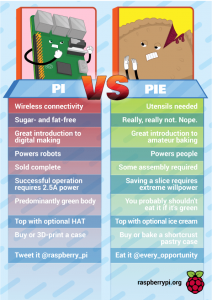 The Raspberry Pi is a low cost, credit-card sized Linux computer that plugs into a monitor or TV. It's creator, Eben Upton, originally designed it with the intention of providing a cheap computer on which school children could learn more about  programming languages and hardware. While the Raspberry Pi is slower than most modern full size computers it's capable of doing everything you'd expect a desktop computer to do, from browsing the internet and playing high-definition video, to making spreadsheets, word-processing, and playing games.
They are also fantastic at doing a lot of things that you don't really need an expensive computer to do, you can run one to control a home based NAS (Network Attached Storage), web server, or even a media centre like Kodi, The best thing about them personally I think is that you can create and build your very own projects like I have with my pool monitor.
The main operating system for the Pi is known as Raspbian and is based on Debian,  you can install other operating systems such as Ubuntu MATE, Snappy Ubuntu Core, RISC OS, Arch Linux ARM and Windows IoT Core.
Watch this video for more background on the Raspberry Pi.
The first Raspberry Pi's (Model 1 A) were officially launched in February 2012 and have since gone through several versions leading up to the current Model 3 released in February 2016. Given it's low cost, low power consumption and small size, a large community has built up around the Pi and there are now many projects like this one that are available on the internet, and this I believe is one of it's greatest strengths.
The currently available full size versions of the Raspberry Pi are the A+, 2B+, and 3,  the smaller bare bones versions are zero and the zero-w. (Note: A B+ version can still be purchased but this has been superseded by the 2B+)
Raspberry Pi A+

This is a very light weight version of the Pi, the A+ version is only really suitable for projects that do not require a lot of processing power.  It's benefits are that it is smaller in size and lower cost.
Specifications:
700MHz Broadcom BCM2835 CPU
256MB RAM
40pin extended GPIO
1 x USB 2 port
4 pole Stereo output and Composite video port
Full size HDMI
CSI camera port
DSI display port
Micro SD port
Micro USB power connector
Size : 65mm x 56mm
Raspberry Pi 2 B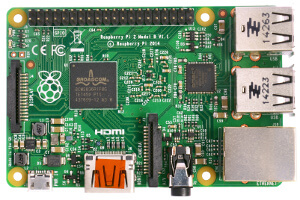 The Raspberry Pi 2B is the most popular version of the current Pi's due to the processing power and amount of ports installed on the board. The Raspberry Pi 2B is the replacement of the B+.
Specifications:
Broadcom BCM2836 Arm7 Quad Core Processor powered Single Board Computer running at 900MHz
1GB Ram
40 pin extended GPIO
4x USB 2.0 ports
Stereo out and composite video port
HDMI Port
Camera Serial Interface port
Display Serial Interface port
Micro SD card slot
Micro USB power source
Size: 86.5mm x 56mm
Raspberry Pi 3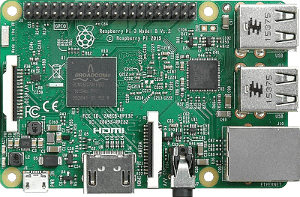 The Raspberry Pi 3 is the latest and greatest  version of the Pi and beats version 2 in performance and features. This version has on-board Wi-Fi (802.11n) and Bluetooth 4.1. This will enable you to easily connect while freeing up more of your USB ports. While the Pi 2 was OK as a limited desktop computer the new specifications mean that this little computer has now become what most would consider to be a proper desktop computer for checking email, web browsing and word processing and a wide range of other functions.
Specifications:
Broadcom BCM2837 (roughly 50% faster than the Pi 2)
1.2 GHZ quad-core ARM Cortex A53 (ARMv8 Instruction Set)
1 GB LPDDR2-900 SDRAM
40 pin extended GPIO
10/100 MBPS Ethernet
802.11n Wireless LAN
Bluetooth 4.0
4x USB 2.0 ports
Stereo out and composite video port
HDMI Port
Camera Serial Interface port
Display Serial Interface port
Micro SD card slot
Micro USB power source
Size: 86.5mm x 56mm
Raspberry Pi Zero
The Raspberry Pi Zero is the smallest and cheapest with the board priced at around only $5, it features the barebones of the Pi on a super small board making this ideal for embedded projects that don't require a lot of processing power.
Specifications
1Ghz, Single-core CPU
512MB RAM
Mini HDMI
Micro USB Port
Micro USB power
Micro SD Card Port
40-pin header
Composite video and reset headers
Camera Serial Interface FPC connector (Released 17/5/2016, requires custom 6 inch adaptor cable to connect to existing RPi camera)
Size: 65mm x 30mm
Raspberry Pi Zero-W
The Raspberry Pi Zero W extends the Pi Zero family. Launched at the end of February 2017, the Pi Zero W has all the functionality of the original Pi Zero but with added connectivity, consisting of:
802.11 b/g/n wireless LAN
Bluetooth 4.1
Bluetooth Low Energy (BLE)
The Raspberry Pi is a bare bones computer meaning that it doesn't come with any type of enclosure around it, while this saves on cost sometimes you might want some protection or even some nice styling so that it can be placed in a location where it can be seen and enjoyed. Fortunately there are a wide range of Raspberry Pi 3 cases available that will be suitable for any project, Raspberry Pi Zero cases are also readily available in a range of styles.
As I said above there is a large community surrounding the Raspberry Pi and many great projects, if you would like to find out more why not head over the Raspberry Pi Foundation as see the good work they do.  If you really want to stay up to date don't forget to check out the MagPi magazine.