5 Best Raspberry Pi Zero Cases 2017
Protect Your Raspberry Pi Zero
The Raspberry Pi Zero is the cheapest of all the Pi variants, with the arrival of the new WiFi version if your project doesn't require full size USB ports and Ethernet connections then the Pi zero can be a great choice. There are several companies that have developed Raspberry Pi Zero cases that both look great and can be used in a wide range of applications.
Maybe you're all about the style and look, perhaps your running processor intense programs and need a little cooling with your case or you could just be looking to protect your Pi Zero, no matter what your needs I am sure that here you will find a case that suits your needs.
1. The Official Raspberry Pi Zero Case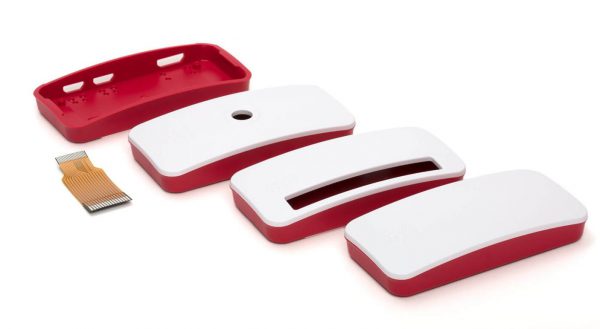 If you are looking for a simple and stylish case then it's hard to overlook the one produced by the Raspberry Pi foundation itself, the case consists of an upper and lower section, the upper section comes in three  different versions. The first is a fully enclosed cover that can be used when you only need access to the power, micro-usb and mini HDMI ports.
The second has a cutout slot to provide access to all the GPIO ports, the Pi Zero doesn't come with any pins connected to the GPIO ports, to take advantage of this slot you will need to solder your own 2×20 header to the Pi.
The final cover can be used to mount a Pi camera, the case includes a small ribbon cable to achieve this.
As you can see with all these options the foundations case can be used in a wide variety of projects. It should be noted that there is no access to the SD card from the outside of the case.
Check Here For Prices and Availability
---
2. Zebra Zero Black Ice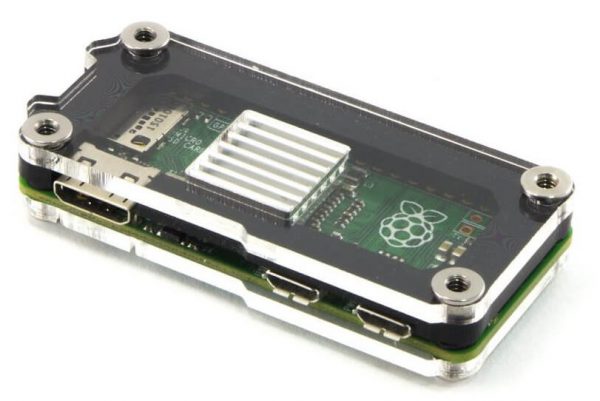 C4 labs produce some great cases and this one no exception, the slim design maintains the Zero's small size while still allowing for excellent airflow, if you are running software that causes the processor to generate a lot of heat then the included heat sink in this model is the ideal solution.
Pictured above is the Black Ice version but the Zebra style case is available in a range of other colours. It should be noted that this is a fully covered case that does not allow access to the GPIO pins, if you need to connect to them you should probably consider one of the other cases.
Check Here For Prices and Availability
---
3. Zebra Zero Black Ice Plus
If you do a lot of prototyping with your Pi Zero then you should definitely consider the Zebra Zero Plus with a built in breadboard. There has really been a lot of attention to detail with the design of this enclosure, the clear top and wood bottom provide a clear view of the board while maintaining a low profile, conveniently all of the ports are accessible with this case.
The design of this case allows for a straight or angled GPIO header to be installed with the ability to plug in a full cable connector on either side of the case. C4 labs have changed the style of the nuts that they provide so that if you want to install a HAT or pHAT it can be secured to the nut's on the opposite side, all this and the case comes with handy basic labels for the GPIO pin connections.
Check Here For Prices and Availability
---
4. MakerSpot Raspberry Pi Zero Enclosure Semi Transparent / Solid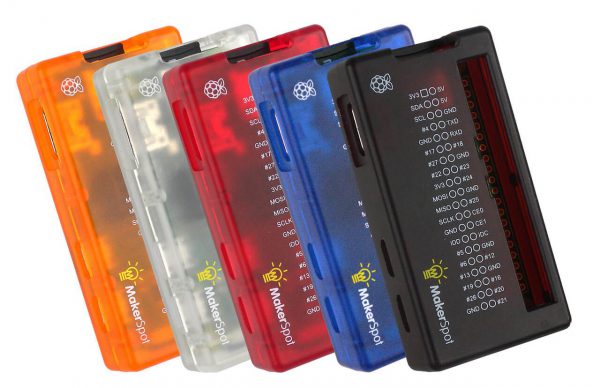 If you are looking for a simple yet functional case to protect your Pi Zero from things like shorting out the passive components while still allowing full access to the GPIO and other connections then this Makerspot case is a great choice. The snap-on case design allows you to easily remove the board anytime while the addition of the GPIO pin out labels printed on the top of the case makes it really easy to experiment with your Pi.
Along with convenient access to the GPIO ports this enclosure provides slots to access the micro USB ports, microSD card and mini HDMI connector. This case comes with 4 rubber feet to help with airflow and is available in a range of colors that are either semi-transparent or solid.
Check Here For Prices and Availability
---
5. Nucleus Zero Wood Enclosure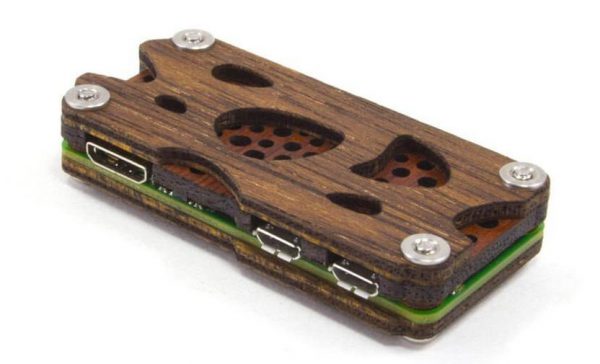 Once again the good folks at C4 Labs have created a Raspberry Pi case with a touch of class and elegance, this case is made from Philippine Mahogany and is a classic layered style case making it strong while providing good airflow.
The Nucleus provides easy access to all the main ports but when assembled it is not possible to connect to the GPIO ports, this case emphasises style and for that reason is far more suited to uses like a media server or installing Kodi. The case is built to a very high standard and the Nucleus style is available in several different colours that all look great.
Check Here For Prices and Availability
---
There is a wide variety of Raspberry Pi Zero cases available these days so you are bound to find one that suits your needs, my personal favourites are the enclosures available from C4 Labs, these cases are made in the US, from their high quality you can tell that the company has put real thought into all their products including their range of Raspberry Pi 3 cases. This is just a small selection of what I consider to be some of the best cases available to choose from no matter what your project.
If you have any thought's about this article, improvements or errors let me know in the comments below and if you found this helpful, why not share it with others.