Soldering Irons for the Hobbyist
Whether you're an experienced electronics enthusiast or just a beginner looking to learn about soldering, having a high quality soldering iron is the key to opening up a wide range of new projects with your Raspberry Pi.  While creating circuits on breadboards is great when you are just starting out, a quality soldering iron is an absolute necessity when you want to go further and start repairing electronics, creating protoboard circuits and even building you own circuit boards.
I personally recommend temperature controlled soldering irons because they have a thermostat which switches off the heater when the selected temperature is reached. This means it can have a more powerful heating element, so it heats things up faster. When the iron isn't in use the element is switched on just enough to maintain the set temperature and does not overheat, this helps to maintain a better tip surface. Finally another advantage is that you can set the temperature to match the kind of solder you are using (hotter for lead-free), turn it down to solder delicate or heat-sensitive parts, or turn it up to work on large or heat-conductive (ground plane) terminals.
The temperature controlled soldering irons below are what I consider to be for, the electronics hobbyist, the best performing and best value for money, with any one of these will enable you to successfully tackle a wide range of soldering jobs like a pro.
Weller Soldering Stations
Weller soldering irons for electronics have been a stalwart of the industry since 1945 and have made many high quality products over that time, they have a great reputation for reliability and are one of the go to manufacturers for both amateurs and professionals alike.
Weller WLC100 40-Watt Soldering Station
On/off switch with power-on indicator light

Variable power control produces 5 to 40 watts

Quality, lightweight pencil iron

Cushioned foam grip with replaceable heating element

Includes iron-plated copper tip, safety guard iron holder, and natural sponge tip cleaning pad
The Weller WLC100 Soldering Station has been around for quite sometime and includes everything you need to start soldering. Designed with the hobbyist or DIY'er in mind, this soldering station features a high-quality, lightweight pencil iron with variable power control, a cushioned foam grip with a replaceable heating element, and a safety guard iron holder. Replacement parts are easy to come by for this iron and the build quality is excellent.
The Weller WLC100 is a very convenient tool to use but it can take a longer time to reach the optimal temperature for soldering. However, this shouldn't be a problem for the general hobbyist. It should be noted that variable power control is not the same as proper thermostat temperature control but for it's price it is a great entry level iron, however if your budget stretches a little further then having complete temperature control is a well worth it.
Weller WES51 50W Soldering Station
Designed For Continuous Production Soldering

Slim, Comfortable Pencil With Eta Tip Reduces Operator Fatigue

Tip Temperature Offset Capability

Allows User To Reset Station Temperature To Match In Tip Sizes & Styles

Station Includes Power Unit, Soldering Pencil, Stand and Sponge
The Weller WES51 Soldering Station comes complete with a soldering pencil, stand, and sponge. Again this model has been around for many years with an excellent reputation for a variety of soldering applications. The comfortable foam-grip pencil and variable temperature (350 – 850 Fahrenheit) gives you great control of your work for precise results. This soldering iron a very quick to get back up to the correct temperature after cleaning, tinning or soldering, which will ensure that you are always getting the best connections with your joints. Some addition features of this iron is it's non-burnable silicone rubber power cord, ESD safety, and automatic shut-off technology making this a very safe device to use.
There is a newer digital version of this soldering station, the Weller WESD51, which has all the same features but includes an digital temperature readout, which you prefer comes down mostly to personal choice but the WESD51 does come with a slightly higher price tag.
Hakko Soldering Stations
Hakko soldering irons for electronics have been around since 1956, their products have been widely used by industry and have a great reputation for quality and reliability. The expansion of their range to include products appropriate for the hobbyist has only seen this reputation grow to where their soldering stations are now some of the most popular in the market.
Hakko FX600 67W Adjustable Temperature Controlled Soldering Iron
Adjustable "electronic" closed-loop temperature control
Dial the temperature you want
Temperature control sensor in heater ensures consistent heat
Slender, ergonomic handpiece
Durable construction with cord strain relief
The Hakko FX600 is the next generation of variable temperature-controlled soldering irons. While not just for electronics it is ideal for soldering anything where mobility or a long reach is required, with this iron you can throw it in a toolbox when you don't want to carry around a complete soldering station  The lightweight hand piece allows you to solder for long periods of time without hand fatigue. The soldering iron features a convenient temperature adjustment dial that allows the you to select your optimal soldering temperature, and the electronic controls and ceramic heater provide great accuracy and stability.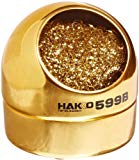 Another feature is the temperature setting of this iron can also be locked by removing the central screw and detaching the control knob.
After detaching the control knob, you can change the temperature setting only using the dedicated lock key ensuring that the temperature can't be changed by accident.
There are a wide range of tip sizes available for this soldering iron and when combined with a iron holder and tip cleaner this is a very versatile unit that will find a wide range of applications. So if your soldering isn't confined to a work bench the Hakko FX600 could be the ideal solution.

Hakko Digital FX888D 70W Soldering Station
Digital Soldering Station ESD Safe

Allows User To Reset Station Temperature To Match In Tip Sizes & Styles

Slim, Comfortable Pencil

Station Includes Power Unit, Soldering Pencil, Stand and Sponge

Temperature range 120° – 899°F (50° – 480°C)

Digital display shows °F or °C
The Hakko FX888D is an ESD-safe, digital soldering station with multiple preset temperatures and digital calibration, it is a very popular model that really delivers on performance and value for money. The unit comes with a 65 watt soldering iron, iron holder, cleaning sponge and brass.
The Hakko FX888D can be set manually to a wide range of temperatures between (125 – 899F) or you can use up to 5 presets and the temperature display can be set to either Celsius or Fahrenheit. All of these settings can be locked using a password to prevent them from being changed accidentally. It takes both the 900M and T-18 series tips making sourcing replacement and alternative tips much easier.
The only downside to this soldering station is the 2 button interface which can at times be less than intuitive, fortunately there are some excellent "How to" videos available that make this a lot easier so you shouldn't let this hold you back.
Overall, the Hakko FX-888D is very easy to use, its temperature recovers quickly and is very light to hold. If you find yourself working with a wide variety or components then you should definitely consider this soldering iron.
ERSA RDS 80, 80W temperature-controlled soldering station
80 Watts of heating power

3 programmable quick temperature settings

Operating temperature from 150 °C – 450 °C

Digital temperature display

Programmable time-controlled standby and automatic power-OFF
The Ersa RDS80 digital soldering station is an 80W unit that delivers extremely fast heating and temperature recovery thanks to this high output. The high heating power and large selection of soldering tips allow for a very wide range of applications.  The hand piece is quite light weight, the housing design and the large digital display are all excellent features of this iron. Besides the arbitrary temperature selection between 150 °C and 450 °C, three fixed temperatures, or two fixed temperatures and one standby temperature can be programmed. In addition to a power bar graph display the station also has a calibrating and power-off feature.
One of the drawbacks of this particular unit is the fact that despite them saying that it has a highly flexible cable connecting the soldering iron to the power unit in practice this is not he case, while not a big problem, it is unfortunate that they haven't used a more flexible silicone cable in a unit of this quality and price.
Conculsions
While all of the soldering stations shown here are more than capable of producing great results for the electronic enthusiast my highest praise would have to go to the Weller WES51 and the Hakko FX888D, the reviews from users of these two soldering stations is almost always positive. I personally use the Hakko FX888D at home and once you get past the less than obvious interface this really is a very versatile unit.
One extra thing to note is that due to their popularity there are several inferior fake versions of the FX888D being sold which are very hard to identify from the genuine. The only differences being on the internal circuit board, for this reason always purchase this soldering station from a reputable source.
If you have any thought's about this article, improvements or errors let me know in the comments below and if you found this helpful, why not share it with others.